"Bonjour!" beamed the skinny young monk as he hurried past me down the steep dirt path, his brown habit flapping behind him. It turns out the local monastery had only been finished 10 years ago. I'd have thought there were sufficient monasteries in France to house today's crop of aspiring monks, but apparently not. It's not just men of the cloth that are being drawn to Ventoux – what was once a quiet backwater is now one of the most exciting and dynamic areas of the Rhône.
Phillipe Gimel was a pharmacist in Lorraine near Alsace until he decided to retrain as a winemaker. After stints at some of the top names in Châteauneuf-du-Pape (Beaucastel, La Janasse) he decided to establish his own domaine. He didn't have a large sum to invest in a vineyard but he was determined to find good terroir, so he focussed first and foremost on geology. "If you can study geology, you can still find great terroirs that are unknown… And as soon as you have a mountain, it's almost an obligation that the terroir will be great," says Philippe. It led him to the hilltop town of Le Barroux, near Mont Ventoux.
At 1,912m, Mont Ventoux is the tallest mountain in the region and is the focal point for a picturesque land that's rich in biodiversity. Philippe bought a 23 hectare vineyard in the north of the appellation in 2003 which he christened Saint Jean du Barroux. His land stretches over a sloping hillside; the shallow soils and competition from surrounding trees result in naturally low yields. It sits on a geographical fault that throws up a jumble of different soil types, and the local water sources help stave off drought. He speaks like a man who has struck gold, and when you taste the wines, you can't help but agree.
Not all of Ventoux's terroir is this promising however. It's one of the lowly satellite appellations of the Southern Rhône, and although the wines are identifiably Rhône in style, producers aren't even allowed to use the basic term Côtes-du-Rhône on their labels. You can see on the map how big the appellation is – it's one of the biggest in France. With a hulking great mountain in the middle, not all of the area can be planted, but nonetheless the appellation has 5,913 hectares under vine (that's roughly twice as much as Châteauneuf, four times as much as Crozes-Hermitage, twenty times as much as Côte-Rôtie).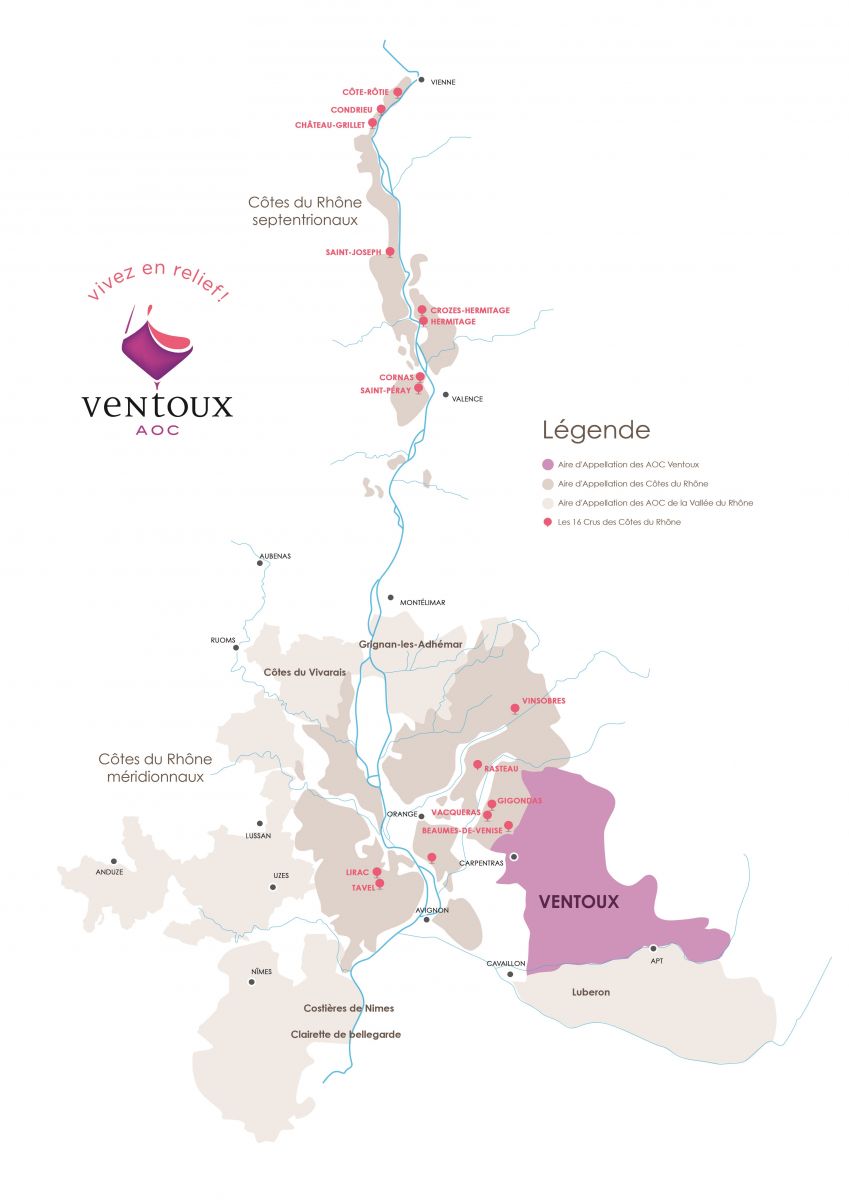 There are three main zones. The main growing area is effectively a bowl surrounded by mountains on three sides: the Dentelles de Monmirail to the north, Mont Ventoux to the east and the Monts de Vaucluse to the south. The second is a small extension to the north in the hills around Malaucène where you find stars like Saint Jean de Barroux, and further north, Chêne Bleu. The third is unconnected to the others: a large swathe of land to the south close to the Luberon. Most producers I spoke to agreed that the best wines come from the first two areas, and often at high altitude (up to 500m); some questioned whether the third zone deserved to be part of the appellation at all.
The region has long been dominated by co-operatives, and they still make three quarters of the wine. As recently as 20 years ago, the region was known for making pale, light reds of little interest. Fred Chaudière of Château Pesquié says that in the 1980s it was difficult to fully ripen red grapes, but now the challenge is to retain acidity and keep alcohol in check. "In a way," he says, "global warming has been a strange ally to Ventoux." And as land prices have risen in the rest of the Rhône, it has encouraged ever more prospectors to come and see what can now be achieved here.
Close to the foot of the mountain in the main growing area is one of the original pioneers of top-flight Ventoux, Domaine de Fondrèche. Like Philippe Gimel, owner Sébastien Vincenti worked for a top Châteauneuf producer (Les Cailloux) before striking out on his own. He eventually came across this stunning spot and established the domaine in 1995. The peak has a strong influence over the local microclimate; the nights and mornings are cool as cold air flows down the mountainside, and they harvest late in the season, up to three weeks later than Châteauneuf. The result is a tell-tale freshness in the wines that underlines their origin.
This crackle of enlivening acidity is Ventoux's calling card and can contribute a welcome drinkability to the wines. Like the rest of the Southern Rhône, Grenache is king, but the Syrah can be remarkably successful here, particularly in cooler years like 2014. Like so many other regions the recent growth has been in rosé, which now amounts to 35% of production. The rosés tend to be less interesting than the whites however, some of which are thrillingly good. There are even some exciting experiments in sparkling.
Even in the main growing area not all of Ventoux's vineyards are directly influenced by the mountain; much of them are planted far away on the plain. "Some of the vines are in the wrong places," Sébastien says tactfully, and is working with the local authorities to redefine the limits of the appellation. Until then, the name Ventoux alone will be no guarantee of quality. But when you taste the wines of front runners such as Saint Jean du Barroux, Domaine de Fondrèche, Château Pesquié, Château Unang, and Chêne Bleu it's clear that something very special lies within this sprawling appellation. You may not find God, but you'll find some brilliant wines.
Sixteen Ventoux wines to try
All tasted July 2016
Saint Jean du Barroux 'La Microclimat' 2014 (13.5%, not yet released)
Only made in certain years, and a different style each time depending on what is possible. 100% Syrah, 1/3 old barrels, 2/3 stainless steel. No stemming, 1,300 bottles. A wild and herbal expression of Syrah with violets, bacon fat and spice. Medium- to full-bodied, with firm, muscular, mouth-coating, slightly powdery tannins; big in structure but not in extraction. Great purity and freshness in the wine, an extraordinary expression of Syrah. 95 points.
Saint Jean du Barroux 'La Pierre Noire' 2012 (15.0%; £27.50, Gauntley's for the 2010)
80% Grenache, 20% Syrah, no destemming, 3 years in tank before bottling. Transparent in colour and style. A picturesque expression of berry fruit alongside a distinctly herbal palette of flavours; pine resin, fresh and dried wild herbs. Concentrated but not overly so, this retains a sense of subtlety and detail. Tannins are silky, acidity shines through and helps deliver length to the fruit. A touch of cinnamon and white pepper on the finish. Soft but expressive, this is a beautiful wine that shows what can be achieved in the right sites of Ventoux. 94 points.
Domaine de Fondrèche 'Divergente' 2015 (not yet released)
A new cuvée, possibly a one-off. One foudre of pure old vine Serine (Syrah). It has a striking clarity of Syrah fruit, with violets, grilled bread and black olive. Full and concentrated but fresh and vibrant with piercing acidity and a mineral razor's edge. This is exciting; a brilliant expression of Ventoux terroir. 94 points.
Saint Jean du Barroux 'La Montagne' Blanc 2015 (14.5%; not yet released)
Philippe only releases the white when it's ready to drink. It's a blend of 1/3 each Grenache Blanc, Clairette and Bourboulenc, fermented in stainless steel. Deep stone fruit, with a honeyed richness, heather and herbs. It's full-bodied and broad shouldered, but has lovely acidity running through it and mineral texture on the finish. 94 points.
Saint Jean du Barroux 'L'Argile' 2013 (14.5%; £14.95, Wine Sensations for the 2009)
75% Grenache, 15% Syrah, 5% Carignan, 5% Cinsault, 2/3 destemmed, 2 years in tank before bottling. Leaf tea, fennel, pine needles and herbs on the nose. Syrah makes itself known, lending straightness to the shape and Carignan a little figgyness. Concentrated but not heavy with piercing acidity and gentle fine tannins. There is a lightness of touch that gives the wine an authentic, natural expression. 93 points.
Domaine de Fondrèche 'Il était une fois' 2015 (14.5%; yet to be released, but Private Cellar have the 2009 at £23.50)
This cuvée is only made in very good years. 80% Grenache planted in 1936, with 10% Mourvèdre, 10% Syrah. Aged in two foudres, 1 old, 1 new. Principally berry fruits, loganberry and raspberry, but with some further aromatic detail starting to peep through already. Full, rich and generous in fruit but with notable finesse thanks in part to the bright acidity. Sweet fruit, dry finish. 93 points.
Château Unang 'La Gardy' 2012 (14.5%; not yet released)
An organic estate towards the south of the central growing area with good quality across the whole of their range. Only made in the best years from "whatever impresses us"; this is 70% Grenache, 30% Syrah and Roussanne. Full-bodied, but with elevated fruit, sublime freshness and velvet tannins. A bevy of berries; loganberry, raspberry, wild strawberry and blueberry with some earthy undertones bringing complexity. Lovely balance, full of life. 93 points.
Château Pesquié 'Artemia' 2010 (14.5%; Corney & Barrow, £23.50)
50% Grenache, 50% Syrah, same plots each year. Half in 225l new oak barrels, half in 1 year-old-barrels for 12-18 months. Some pine resin, tapenade and an emerging hint of truffle on the nose. Intense, juicy fruit, long and concentrated, just starting to open up now and showing layers of complexity. It has the fullness and generosity of Rhône fruit but that lovely acid kick on the finish that marks it out as Ventoux. 93 points.
Chêne Bleu 'Abélard' 2010 (15.0%; £49.95, winedirect.co.uk)
This has retained a good depth of deep red colour. Leather, truffle, sous-bois and spicy oak, cigar ash and cedar – wonderfully complex nose. Remarkably together still for a Ventoux of this age – full-bodied, with good tannic structure and fruit – there is still life here. Bravo! Though the oak is prominent. 92 points.
Château Unang 'La Croix' 2013 (14.5%; Justerini & Brooks, £16.99 for the 2012)
La Croix is 2/3 Grenache, 1/3 Syrah & Cinsault. Expressive raspberry, strawberry and Victoria plum fruits with an intriguing hint of eucalyptus. There is underlying oak here, but it's sensitively used and supports the vibrant, intense fruit. It has power, but isn't overly concentrated or heavy. 91 points.
Domaine de Fondrèche 'Persia' Blanc 2015 (13.0%; Cadman Fine Wines, £17.50)
100% 40-year-old Roussanne; aged in two foudres, 1 used, 1 new. The Persia Rouge is consistently a good buy (especially the 2010 and 2014) but white version shows just how good Ventoux Blanc can be. Pear and yellow flowers on the nose, almost opulent in the mouth but it retains a sense of freshness into the tight, mineral finish. 91 points.
TerraVentoux 'Terre des Truffes' Rouge 2013 (14.0%; Excel Wines, £9.97)
50% Syrah, 50% Grenache from a consistently good Ventoux co-operative. High toned – floral lavender hints, some orange peel. Some fresh green herbs. There is complexity here. Medium-bodied, fresh and spicy. Harmonious, structured wine with lovely acidity and length. Not a concentrated wine for long-term ageing, but nonetheless a lovely expression of the terroir. Very good value. I recommend checking out their whole range. 90 points.
Château Pesquié 'Terrasses' 2015 (14.5%; yet to be released, but Your Sommelier have the 2012 at £12.00)
60% Grenache, 40% Syrah. A liqueur of black berry fruits on the nose. Lively, juicy and refreshing with a seam of raspberry acidity running through it. A light toastiness on the finish adds interest. Good value. 90 points.
Marrenon 'Orca' 2014 (14.5%; not currently available UK)
95% Grenache, 5% Syrah. 110-year-old vines from the southern slope of Mont Ventoux made by a quality-minded union of co-ops. Bright, exuberantly fruity nose, blackberries. Full-bodied, rich on the palate, but with piercing acidity and firm tannic structure. Good length. A powerful wine, but with ample structure and no heaviness. 90 points.
Domaine Martinelle 2013 (14.0%, £9.95, The Wine Society)
Principally Grenache, Syrah and Mourvèdre but containing a jumble of other local varieties, including some white grapes. The domaine is run by Corinna Faravel, wife of Thierry Faravel of excellent Domaine la Bouïssière in Gigondas. This has a lovely sense of depth and harmony to the concentrated black fruits coupled with a sprightly drinkability. Great value at under a tenner. 89 points.
Grandes Serres 'Chapelle Sainte Croix' 2015 (14.0%; not currently available UK)
A medium-bodied fresh and lively style of Ventoux with a subtle herbal element embedded in the brambly fruit. A transparent, pure and highly drinkable style. 89 points.