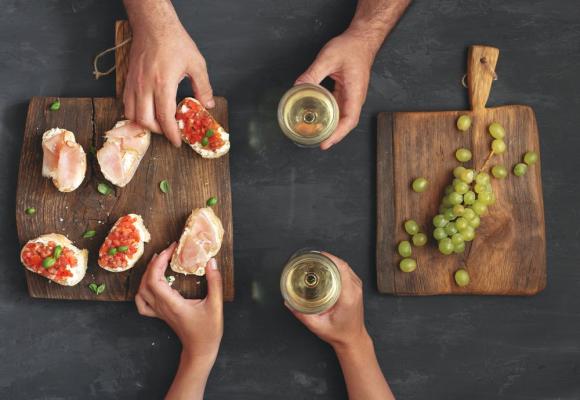 At the height of her fame as a Strictly Come Dancing and Celebrity Fit Club contestant, the ex-Tory MP Ann Widdecombe was asked to write a book about how to lose weight. Her response was that were she to produce such a work, it would be very short. So short indeed that it would contain just two simple injunctions: "Eat Less" and "Exercise More".
The so-called art of food and wine matching could be similarly distilled. A Widdecombesque take on the subject might run to half a dozen "rules": acidity with acidity, sweetness with sweetness, spice with softness (or a little residual sugar), salt and protein both reduce our perception of tannins, think local and, finally, treat tricky ingredients like artichokes and chocolate with caution. Otherwise, pretty much anything goes.
For all that, food and wine matching is something that lots of people worry about, fearful of committing an embarrassing solecism. "What would you serve this with?" is right up there with "Is this worth anything?" and "How long should I keep it?" in the list of questions consumers habitually ask wine experts. It also explains, at least in part, the enduring popularity of Saturday Kitchen on TV. People want advice, however inane or generic it may be.
I suspect that this is a relatively new phenomenon. As a teenager, I don't remember my parents fussing about whether to serve Mateus Rosé or Corrida with that night's shepherd's pie or fish fingers. They opened what was to hand. Their example must have rubbed off on me, give or take the branded wines. If I invite people round for dinner, I just pull a few corks and put the bottles on the table. Try one and, if you don't like it, reach for another. Very few food and wine combinations are actively horrid – and those that are can mostly be eliminated by common sense – or truly wonderful. Most are just fine, whatever sommeliers might wish you to believe.
What, then, are we to make of The Wine Dine Dictionary (£20, Granta Books) by Victoria Moore, which claims to be "the first book of its kind"? This is only partly true. Sure enough, the Widdecombe bit – shared with every article or book ever written on the subject – comes as early as page 20. It's elegantly couched – Moore is one of best wine writers of her generation – but not new.
The original take on the subject is to divide the book in two halves. The first starts with the ingredients (or dish), the second with the grape variety (or wine style). Inevitably, this involves a degree of repetition. Goulash is "brilliant with Carmenère" (page 101), while Moore's "favourite match" with Carmenère is goulash (page 217). But this does reflect the way people think about food and wine. Some start with the former, others with the latter. So it's your choice: Abalone to Zander, or Aglianico to Zinfandel. Or both.
Of the two, it's the wine half that works best for me, partly because Moore is on familiar territory, but also because it contains some evocative quotations from winemakers. I can almost hear Alvaro Palacios describing Garnacha as "the most musical, poetical, the most delirious Mediterranean grape", his hands turning like moths around a candle. Inevitably, some of the entries leave you wanting more, but that's in the nature of books that cover a lot of ground at a gallop. The general reader, not the expert, is Moore's target audience.
The book also contains 30 recipes – nothing original there either – but breaks new ground with interesting entries from leading producers about what they like to eat with their own wines. These are often enlightening. Nigel Greening of Felton Road likes Japanese noodles with cream and black truffle with his Block 5 Pinot Noir; for Olive Hamilton Russell of Hamilton Russell Vineyards, the grape works best with mushroom risotto.
And what of the recommendations themselves? Most of them strike me as sensible and open ended enough not to be prescriptive. Who could disagree that partridge goes well with Pommard, a Rioja, a wine from the Languedoc, a Montepulciano or a country Syrah? And yet they also take something away from the pleasure of serendipity, of discovering (as I once did) that the best match with a chocolate brownie was a stout. To be fair to Moore, she mentions Cabernet Franc and strawberries as a favourite, unexpected marriage.
The Wine Dine Dictionary has its weaknesses, but these are more to do with the subject matter itself than the writing or the layout, both of which are impressive. As long as they don't take it too seriously – it's a guide rather than a set of ex cathedra pronouncements – then wine and food lovers will find much to enjoy and agree with here.
More to the point, it might just inspire the general reader to think about what they eat and drink, reducing some of the stigma around alcohol consumption in the process. Not in a way that makes them worry about looking stupid, but in a spirit of discovery, as what Moore herself calls "guidelines, not rules; suggestions, not shouldn'ts and shoulds". I suspect even Anne Widdecombe would drink to that.
Image © Shutterstock