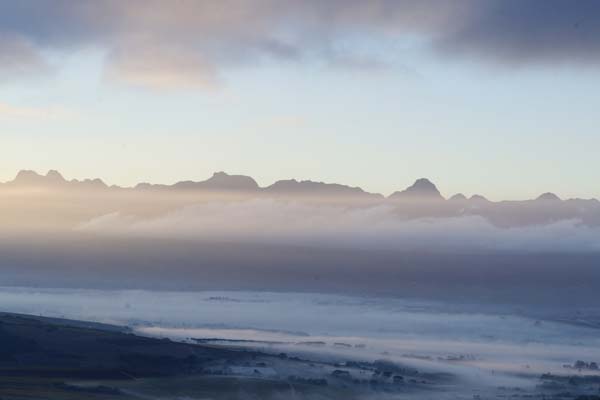 When the 400 tickets for this year's Swartland Revolution went on sale earlier this summer, they sold out within two minutes. Since it was first held in 2010, the annual knees up in the small town of Riebeek Casteel has become one of the key events in the South African wine industry calendar and a focus for all that is hip, unkempt and exciting about the Cape. It's the Wild West of wine.
Can you think of a region anywhere in the southern hemisphere that has generated as much publicity or column inches in such a short space of time as the Swartland? Several of the key figures in the revolution had previous form with other wineries, but they are nearly all recent arrivals: Chris and Andrea Mullineux of Mullineux & Leeu Family Wines (2007), Adi Badenhorst of AA Badenhorst (2007), Donovan Rall of Rall Wines (2008), Craig Hawkins of Testalonga (2009), Callie Louw of Porseleinberg (2009) and David Sadie of David & Nadia Sadie (2010). Only Eben Sadie, who set up Sadie Family Wines in 2001 after three vintages at Spice Route (founded in 1998), is an old Swartland hand.
The success of the Swartland has generated a degree of jealousy and resentment elsewhere in the Cape. Critics say that the place is over-rated and over-hyped. It's too hot, too dry and relies on a handful of star names to sell its other wines, they say, many of which aren't very special, let alone revolutionary. The criticism is a little extreme, but it's true that the Swartland enjoys a reputation that is out of proportion with its achievements, at least to date. It has produced some outstanding wines, especially with red Rhône varieties, but the Swartland is still a very young region, albeit one with a lot of potential.
The Swartland is sometimes marketed as a radical, edgy alternative to Stellenbsoch, the traditional heart of the South African wine industry. The latter is perceived as conservative, moneyed and unadventurous, a Cape version of Bordeaux or the Napa Valley, if you like. To some people, Stellenbosch represents the old South Africa, with all the baggage it chose, or was forced, to shoulder, while the Swartland is the post-1994, Mandela-sanctioned rainbow nation.
Like the criticism of the Swartland, there is also some truth in this. There are a handful of Stellenbosch farms that are little more than vanity projects, while others are stuck in the middle of the last century, producing old-fashioned wines from badly farmed, virused vineyards.
But that's only part of the story. To me, Stellenbosch consistently produces a greater proportion of the Cape's finest wines than the Swartland. It's partly a question of money (and investment in technology), but it's also terroir (or rather a range of terroirs) and expertise. Stellenbosch is the second oldest town in South Africa after Cape Town and its best wines seem to reflect that depth of experience. Somehow, they seem less eager to impress.
Part of the problem with Stellenbosch is that it's regarded (and often sold) as a single entity, despite the fact that it represents more than 16% of South Africa's total vineyard area and has many facets. The differences between its sub-regions are partly reflected in the existence of five distinct wine routes for tourists – Greater Simonsberg, Stellenbosch Berg, Helderberg, Stellenbosch Hills and Bottleray Hills – but they don't convey the entire picture.
You could legitimately divide Stellenbosch into ten separate sub-regions roughly based on climate, soil type, aspect and altitude: Bottleray, Devon Valley, Simonsberg, Helderberg, Banghoek, Stellenbosch Kloof, Somerset West, the Jonkershoek Valley, Firgrove and False Bay.
It's harder to sell a renaissance than a revolution, but that's what's happening in Stellenbosch. If you want weird and funky, try the low alcohol wines that Mick and Janine Craven produce under the Craven label – including a skin contact Clairette Blanche and a whole bunch fermented Syrah that wouldn't look out of place in the Swartland. The same goes for the biodynamic wines made at Waterkloof, a winery that produces excellent Rhône style blends.
What Stellenbosch does best – and it's what the region's reputation is based upon – is red Bordeaux varieties, particularly Cabernet Sauvignon, with support from Merlot, Cabernet Franc and Petit Verdot. This partly explains the Napa and Médoc comparisons, but these are reds that have a character of their own. Just try any of the Bordeaux-style wines from Keet Wines, Le Riche, Stark Condé, Vergelegen, Delaire Graff, De Toren, Hartenberg or Glenelly.
And yet what's so special about Stellenbosch is that it can make almost anything very well, from Chenin Blanc (Alheit Radio Lazarus and De Morgenzon Reserve) to Chardonnay (Jordan Nine Yards and Longridge Clos du Ciel), Syrah (Keermont Steepside and Stark Condé Three Pines) to Pinotage (Kaapzicht Steytler and Kanonkop Black Label). The only possible exception is Pinot Noir, but Meerlust makes a more than decent version of the Cape's most fragile grape.
I'm not sure if tickets for a Stellenbosch Renaissance would sell out in twenty minutes, but South Africa needs its most traditional region every bit as much as its needs the dynamism of the Swartland. The two are entirely complementary.
Originally published in Harpers. Photo of Stellenbosch © Tim Atkin