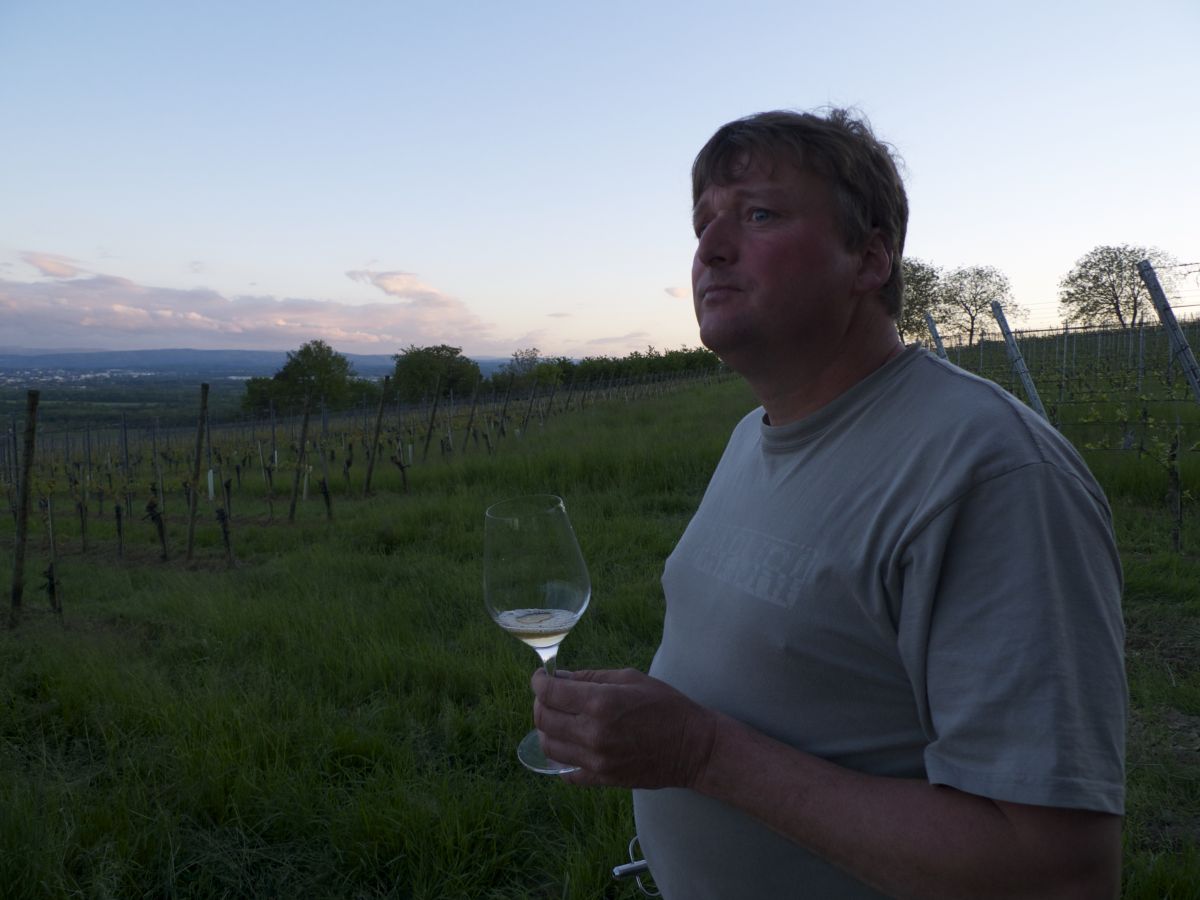 At the first wine course I ever took the tutor explained that Syrah and Shiraz are actually the same grape but under different names. It felt like an illuminating nugget of knowledge at the time, but it turned out to be fool's gold. At their extremes, these two styles are so different that they have little in common. At one end there's the spicy, savoury aromatics and defined structure born of a warm climate (Syrah); at the other there is the power, density and ripe black fruits of a hot climate (Shiraz).
Both have their fans, but I find that too much heat robs this grape of its aromatic complexity, freshness and drinkability, not to mention adding ungainly weight to its naturally athletic frame. My rule of thumb has always been 'the cooler the climate the better'. So when I heard that Germany was making some world-class Syrahs I had to investigate this new frontier: how cool is too cool?
Germany has long been famous for the quality of its white wines – in the best vintages. Its climate is so marginal for grape production that in the second half of the twentieth century there were usually between four and five indifferent vintages per decade. But over the past 15 years or so, the climate appears to have become more amenable to viticulture and more grape varieties are being trialled. Today around 40% of German vineyards are planted with red grapes. Germany is now the third biggest global producer of Pinot Noir (here called Spätburgunder), where it has been grown for centuries. But Syrah is new here.
The first vines were planted in 1993 by Werner Knipser in the Pfalz on the back of their success with red Bordeaux varieties. The first commercial vintage was 1997. Hanspeter Ziereisen was the first to plant Syrah in neighbouring Baden in 1999. He now estimates that there are 10 to 15 producers in Baden alone, and 50 to 55 hectares of Syrah planted across the country.
Ziereisen was already making Pinot Noir, but wanted to make a more powerful red – but it had to be something he wanted to drink himself. Since he isn't a big fan of Cabernet Sauvignon or Merlot, he decided to plant Syrah, particularly since he draws parallels between the climate of Baden and that of the northernmost valley of the Rhône. "We are the [northernmost] Rhône!" he says with a hearty laugh.
Growing Syrah in Germany however is far from straightforward. "I always thought that Pinot Noir was one of the most difficult grapes," says Ziereisen, "but Syrah is horrible! It's only for winemakers that like to work in the vineyard." It is a vigorous variety which makes it labour intensive to manage, and the berries are prone to fall from the vine.
Achieving sufficient ripeness is never guaranteed, and rain at harvest is a constant worry. "In two to three days the crop is destroyed. In 2006 we were not able to make a Syrah, in two or three days it was completely rotten." Patrick Johner at Karl H. Johner in Baden, makes Syrah at their New Zealand estate but not at their German property. He believes only 1 in every 3 or 4 years can make wine of an acceptable standard due to all the rain and humidity. "It's like playing roulette," he says.
Dirk Rosinski at Knipser agrees that producing Syrah in Germany isn't easy, but he believes that the humidity issue affects all varieties, not just Syrah. He thinks that in time it could match the quality of the best German Pinot Noir. "But it's only for the red wine freaks who want to find out what is possible," he says, "it's not for every winery. You must be a little crazy."
For a start there's the perennial risk of vines dying during the brutally cold winters. If they do survive, low yields of 30-35 hl/ha are required (half that of Riesling) to ensure a good level of concentration. And this – plus the associated costs of new machinery, expertise and oak barrels – all adds up to high prices for the finished wines, so they're not always easy to sell.
Many of these potential pitfalls made themselves known in one or other of the 24 German Syrahs I tasted last week. Quality was very up and down, and there were a good number of disappointing wines. But the best were excellent. And as vines mature, local expertise grows and more favourable sites are identified, quality will only improve.
There are several regions outside of the Northern Rhône that produce excellent Syrahs, such as Hawke's Bay in New Zealand, Adelaide Hills in Australia, Sonoma Coast in California and Swartland in South Africa. On the back of this tasting, I'm tentatively adding Baden and Pfalz to this growing list.
The tasting
I tasted the wines firstly by region (Baden, Pfalz, Württemberg and Rheinhessen), then in order of vintage starting with the youngest. Only one wine was submitted by each producer (notable absences being Rings, Ellwanger, Zeter and Schneider).This is early days for German Syrah, and styles varied widely even within each region. Baden and the Pfalz are the warmest regions in Germany: unsurprisingly they fared the best. Of the two, Baden was the most consistent in terms of quality, and 2012 proved to be the most favourable recent vintage throughout Germany for this variety.
To compare German Syrah to any other region around the world, the Northern Rhône would be the closest fit. The best were similar in weight to lighter Côte-Rôtie or Crozes-Hermitage but they often had more red fruit notes and many had a notable vegetal or herbal side. This can contribute complexity and character, or greenness and bitterness, depending on the wine.
Often the acidity was quite elevated, sometimes jarring. Certain winemakers left one or two grams of residual sugar in the wine in search of balance, but more often than not this resulted in an uneasy sweet-and-sour effect. Most of the wines had some oak influence, often too much; this was a recurring problem, but at least it's one that's easy for winemakers to address.
Overall, of the 24 wines I tasted, 10 weren't up to scratch – and that's a lot – but four were outstanding. Sadly only one is currently available in the UK, but others are on their way. I've supplied the local retail price in euros as a guide.
Eight German Syrahs to try
Fritz Waßmer Syrah 2012 (13.5%; Baden, Germany)
RRP 29€
Deeply coloured. Intense fruit here – pure blackberry and a hint of classic Syrah black pepper. Medium- to full-bodied for the style, with intense black fruits and real concentration on the palate. The tannins are fine, the acidity firm but balanced, all leading to a medium length, pure, savoury finish. This is very good indeed – notable for its intensity, presence, aromatic complexity and general sense of harmony. A perfectly balanced wine that's a joy to drink. 2016 to 2020, 92 points.
Knipser Réserve Syrah 2012 (13.5%; Pfalz, Germany)
RRP 60€, for release September 2017
24 months in new French oak, light and medium toast. Transparent dark ruby. Very spicy nose from the oak with juicy loganberry fruit. Autumn leaves, fresh earth and rosemary all lie in wait underneath. Fuller in body than most, with some satin sheen on the palate from the oak. This is more ambitious and concentrated than any other wine in this tasting. Bright, luminous fruit with fine but noticeable tannins. Good purity, and the fruit and oak come together on the long finish, but it will take a while for the wood to fully integrate. 2018 to 2026, 92 points.
Ziereisen Gestad Syrah 2012 (12.0%; Baden, Germany)
£24.00, Howard Ripley
A distinctly earthy style of Syrah with some noticeable oak over the black olive and rosemary. Real freshness, impact and intensity. Tangy finish with some length of fruit and a fine, silky texture. 2016 to 2019, 91 points.
Espenhof Nico Espenschied Syrah 2012 (14.0%; Rheinhessen, Germany)
RRP 24€; 2013 available UK in December from Thirsty Cambridge
Steep, south-facing slope, clay over limestone, planted 2007. No new oak, no additions, no filtration, no fining. Bright, pure, smoky raspberry and cranberry fruit. Pure, sweet fruit on the palate, with a lovely sense of purity and balance. Savoury black olive finish. This is a sensitively made wine that shows off German Syrah's spicy red berry aromatic profile and the fine yet firm structure that sets it apart from other German reds. 2016 to 2018, 90 points.
Bernd Hummel Reserve Malscher Rotsteig Syrah 2012 (13.0%; Baden, Germany)
RRP 25€
Intriguing and inviting nose: high-toned oak spice, raspberry and dried rose. Fuller in body than some, and there is a touch of sweetness here, but it's not out of balance. Not terribly long, but this immediately enjoyable wine has complexity, finesse, and a good sense of harmony. There's a touch of bitter cherry on the juicy finish. 2016 to 2019, 89 points.
Klaus Meyer Rhodt unter Rietburg Réserve Syrah 2012 (12.5%; Pfalz, Germany)
RRP 20€
Young vines (planted 2009) on limestone. Pale ruby. Cherry cola on the nose – robust oak influence, but there is good raspberry and loganberry fruit underneath. Good concentration of sweet red berry fruits, balanced acidity. This is young now, but will improve and come together in time. A wine of considerable finesse and elegance, and has handled the oak well considering the age of the vines. The tannin is fine, ripe, and not drying. There is good potential here – one to watch. 2017 to 2022, 89 points.
Graf Neipperg Syrah 2013 (14.0%; Württemberg, Germany)
RRP 47€
A distinctly savoury nose – black olive, dried herbs, with some just-ripe blackberry. Medium-bodied, velvet textured with a subtle grain. Decent intensity of fruit, and high but balanced raspberry acidity. The tannins are a little sketchy around the edges, but the aromatics deliver much to enjoy. An ambitious style of wine that would be fascinating to taste in a better vintage. 2016 to 2019, 88 points.
Neiss Kindenheimer Katzenstein Syrah 2013 (13.5%; Pfalz, Germany)
RRP 19.90€
Distinctly spicy/herbal nose. Very high-toned and floral. Fine and light on the palate, with sappy fruit. The acidity is incisive but and the wine retains a level of sweetness on the finish. A Syrah for German Pinot lovers? 2016 to 2018, 88 points.