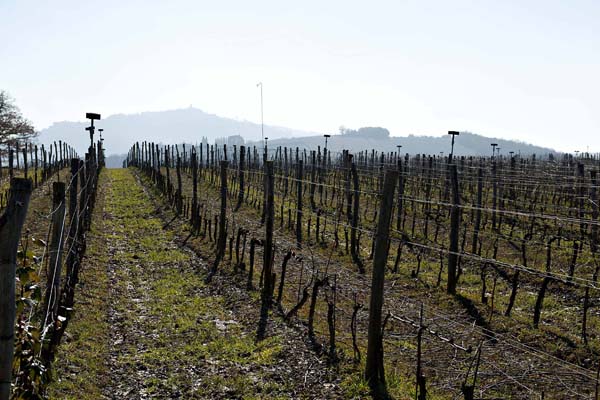 Stroll through the vineyards at Il Paradiso di Frassina in Montalcino and the sound of Mozart soothes your ears. If you like Beethoven, Bach or Boulez, not to mention Miles Davis, Madonna or Motörhead, you will be disappointed. Musical variety is not the point here. The Sangiovese vines are given a permanent aural diet of Mozart, pumped through 58 strategically sited speakers, and nothing else.
Sound waves have an effect on the way plants, not just vines grow, according to winemaker Federico Ricci. "Low frequencies seem to have the biggest impact, and that means certain types of classical music. We are still experimenting, but Mozart seems to work best." Even the most ardent lover of Mozart could tire of the great composer's oeuvre, but not vines, apparently.
If you think this sounds a bit loopy – like Prince Charles talking to his hedgerows – Ricci points out that the Mozart vineyards are stronger are more resistant to disease than those where there is no music playing. Il Paradiso di Frassina picks the former as much as two weeks before the latter. "It gives us more flexibility," he says, "and means that we can harvest our grapes when they are perfect."
This up-and-coming Brunello producer isn't the only winery using music in its vineyards. At De Morgenzon in Stellenbosch, Hylton Applebaum pipes composers such as Bach, Corelli and Albinoni into his rows of Chenin, Shiraz and Cabernet Sauvignon. As someone who set up Classic FM in South Africa, he knows about music, and presumably has an extensive CD collection.
He, too, says that his vines respond to a particular type of classical music – harmonious Baroque and Early Classical. Play them a piece of rock, pop, rap, techno or jazz and it doesn't work. The same goes for choral music. Words, in whatever language and style, don't cut it.
Applebaum agrees with Ricci about plant vigour, but says that his musical vines ripen later, not earlier. "Music seems to make the vines grow more slowly and steadily. It results in better wines, because we get phenolic ripeness at lower sugar levels." Maybe there's something in the South African air…
The link between music and plant growth is borne out by scientific research, although it seems to point towards the effectiveness of relaxing classical music, which has been found to trigger a response in two specific genes of rice, as well as promote root growth in onions during germination.
Will other wineries adopt the same model as Il Paradiso di Frassina and De Morgenzon? The cost isn't prohibitive – just a sound system, a few speakers and several miles of cable – but it's probably a little too left field for most. And yet it's no wackier than biodynamics, and arguably has a greater scientific foundation.
Vineyards are not the only place where music and wine meet. The connection between the two might seem distant – like "dancing about architecture" as Elvis Costello once put it – but music changes our mood and, according to Professor Adrian North of Herriot Watt University, the way we purchase wine.
Supermarkets already realise this. Just as the smell of fresh bread or a blast of warm air as you enter the store in winter can be conducive to a feeling of well being, so are certain types of music. "If you play slow music in supermarkets then people tend to browse more slowly and look at more products," he explains. "As a result, they spend an average of 10-20% more."
Music can be used to manipulate how much we spend on wine, too. As classical music is associated with thoughts of "sophistication and affluence", playing it in a wine store can encourage punters to buy more expensive bottles, just as a piece of throw away pop could have them reaching for the gondola end.
Professor North is convinced that music influences the way we taste wine, too. In a study he did for the Chilean winery, Montes, a few years ago, he found that, based on the responses of 250 adults, "the specific taste of the wine was influenced in a manner consistent with the mood evoked by the music" and that "the magnitude of these effects was not insubstantial".
To coincide with a Simon Callow-hosted show called Tasting Notes that Classic FM did in conjunction with Laithwaite's wine last year, I was invited to try a handful of wines while listening to different pieces of music. I'd love to say that I agree with Professor North, but my response to the vino was the same, whatever was playing in my ear. I suspect there are two reasons for this. First, I'm a professional wine taster, so am more likely to focus on the liquid in the glass. And second, I regularly listen to music on my iPod while I taste, which means I'm used to combining the two while keeping them separate in my brain.
But maybe that's because I choose the music, which is invariably classical or jazz, nearly always without words. Force me to listen to rap or heavy metal, both of which I dislike, and my perception of the wine might change. Like those vines at Il Paradiso di Frassina, I prefer Mozart to Motörhead and Missy Elliott.
Originally published in Off Licence News; photo of Il Paradiso di Frassina © Tim Atkin MW