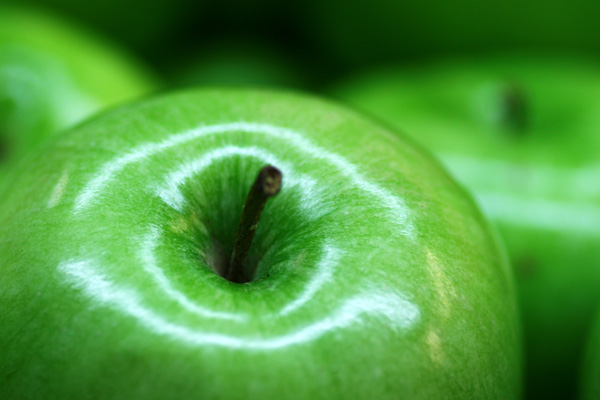 A wine merchant friend of mine likes to play an innocuous trick on members of the public. When novice punters come up to him at tastings and ask for a glass of Chardonnay, he pours them a Riesling instead. 'This is very special Chardonnay,' he says. 'It comes from the town of Riesling. Always look for the name Riesling on the label and you'll never be disappointed.'
Such is the subterfuge to which Riesling lovers will resort to promote their favourite variety. As Chardonnay's popularity booms, so Riesling, its only serious rival as the world's greatest white grape, sinks deeper into the doldrums. It would take the combined skill of the Saatchi brothers, Max Clifford and Stella McCartney to do something about Riesling's poor image in the UK. The irony is that 100 years ago, the top German Rieslings were more expensive than the finest clarets; today, they are some of the world's most under-priced bottles. This is great news for consumers, but a bit of a downer for the poor souls who make and sell the wines.
Riesling's problems are not strictly of its own making. Many associate the grape with the cheap German wines Liebfraumilch and Niersteiner Gutes Domtal, even though Riesling hardly ever appears in such sugary concoctions. And there's the confusion with the Slovenian Lutomer Laski Riesling, or Rizling as it's been forced to call itself, made from Welschriesling, a totally unrelated grape.
Then there is Riesling's flute bottle shape, denoting sweetness and cheapness for most wine drinkers (the curse of Lieb again), even though many Rieslings are dry. Throw in the complications of German wine law and the Gothic, Hammer Horror script favoured by many traditional estates and you can see why Riesling has managed to get such a bad name for itself.
Nothing could be less fair. At its best, Riesling is absolutely wonderful. Many winemakers regard it as the finest grape of all. It is enormously diverse, but also highly transparent, reflecting the place in which it was grown with remarkable fidelity. Riesling doesn't tend to be aged in new oak barrels, so what you taste in the glass is pure fruit. The differences between a Mosel Riesling from Germany, an Alsatian Riesling from France, a Clare Valley Riesling from Australia and a Wachau Riesling from Austria are enormous.
The wine can be dry, medium sweet, sweet, or call-for-the-dentist sweet. The problem for wine drinkers is that it isn't always easy to tell these styles apart by looking at a label. The words Beerenauslee, Trockenbeerenauslee. Eiswein, Botrytis, Noble Late Harvest and Sélection de Grains Nobles are only used on dessert wine styles, but after that, things get a lot more complicated. Back labels sometimes, but rarely, help.
Riesling makes greater demands on the wine drinker than Chardonnay, with higher acidity and less 'mouthfeel' than the world's best-loved grape. It can often seem muted in its youth, especially if it has been doused with too much sulphur dioxide prior to bottling. But Riesling comes into its own as it ages, developing flavours of toast, honey and wax, and aromas that are often compared to kerosene and even petrol. Believe me, a whiff of the garage forecourt is more pleasant than it sounds.
Riesling partners food wonderfully. Its natural acidity makes it an ideal foil for rich, creamy dishes, fish, poultry and even game. I'm not a great fan of Riesling with red meat, but it's surprisingly adaptable otherwise. Riesling, especially Mosel Riesling, is a delicious aperitif.
Riesling grows best in cool climates, although it needs plenty of late season sunshine to ripen fully while retaining its zingy acidity. In areas like the Mosel and Wachau Valleys, the vineyards are planted on steep slopes close to rivers, to maximise warmth and exposure to sunlight. You don't see many overweight grape growers in either region. An afternoon spent pruning vines is like running a half marathon.
For most people, Germany is the home of Riesling. The best of these come from the Mosel-Saar-Ruwer (the lightest styles), the Rheingau, the Nahe, the Rheinhessen and (richest of all) the Pfalz. Top names to look out for include Dr Loosen, JJ Prüm, Fritz Haag, Dönnhoff Egon Müller, Bürklin-Wolf, Müller-Catoir, and Künstler.
Riesling is also produced, with considerable success, in Austria, Alsace and Australia. These three sources consistently make the best wines, although it does well in New Zealand, Canada, Washington State and Italy, too. All of them turn out Rieslings that are generally drier and higher in alcohol than Germany's.
Austria makes far more Grüner Veltliner, but the Wachau Rieslings can be sublime. The best wines tend to be labelled as Smaragd and are made by wineries including Hirtzberger, FX Pichler, Prager and Nikolaihof. These Rieslings have lower acidity than their German and Alsatian counterparts and don't age as well.
Alsace Riesling covers a vast array of styles from bone-dry to very sweet. To my taste, its best Rieslings are the dry wines made by Trimbach, Deiss, Paul Blanck, Ostertag. Kreydenweiss, Josmeyer and Zind-Humbrecht.
Austrian and Alsace Rieslings are still a minority interest. If there is one country that could make the wine world safe for Riesling again, it is Australia. Australia's medium to full-bodied dry Rieslings are very different to the European norm. They're also marketed without reverence for tradition. A group of Clare Valley producers has lead the way in the use of screwcaps, as opposed to natural corks, since 2000.
Australian Rieslings display citrus and tropical fruit flavours in their youth, but can age into rich, toasty maturity. The best are produced in cooler areas such as Mount Barker, the Eden Valley, Tasmania and the Clare Valley, retaining Riesling's characteristic acidity. The leading Aussie producers are Grosset, Plantagenet, Howard Park, Cherubino, Yalumba, Jim Barry and Mount Horrocks, with many developing cult followings.
If Australian Riesling takes off, the grape's defenders will no longer have to lie about it. Otherwise the town of Riesling will remain the home of some very fine Chardonnays.
Crib Sheet
TASTES OF: apples, especially green apples, lemon, lime, minerals and stones (yes really), honey, beeswax, toast.
SMELLS OF: as above, also slate, kerosene and petrol.
GOES WITH: depending on sweetness, almost anything except red meat. Dessert styles are very good with pastries and tarts. Surprisingly versatile.
COSTS: £4.99 for a basic German Riesling, up to £100 or more for a bottle of extremely rare, hand-picked Eiswein.
DO SAY: 'Aged Riesling often reminds me of an afternoon at Brands Hatch.'
DON'T SAY: 'Chardonnay comes from the town of Riesling.'